The Best Outdoor Mobility Units On The Market
Wherever you go, you need the best outdoor models to get you through!
An outdoor trip creates the most treasurable memories. However, sometimes there are scenarios that hinder us from traveling. This is particularly the case in elders with mobility problems and moving hardship, and hence, demands a mobility solution.
Medical vehicles are the best solution. This helps a person move from point A to point B without exerting much physical effort. In the case of physically ill travelers, an outdoor product is best. Riding this vehicle will not make the user seem sick and it'll also look good on the road.
We reveal some of the best outdoor models below. After reading this post you should know which is best for you!
The Top 7 Outdoor Products
Whether short or lengthen road trip, Go-Go Elite Plus Traveler 3-Wheel unit has got your back. It is a user-friendly device with durable construction that could fit your everyday active lifestyle.
It is built simply with interchangeable color panels to make it more personal. The height adjustable seat is front-mounted to maintain the stability of the whole unit. A front basket is responsible for storing personal stuff. Disassembling the unit into five lighter and smaller pieces is made convenient by Feather-touch disassembly. In contrast, the reassembling process requires only seconds.
It comes with 18AH batteries and an off-board charger. Two charging ports are added. It can last up to 12-miles of distance at a speed of 4.50mph.
Look for Go-Go Elite Traveler 4-wheel model for its upgraded version.
WHAT WE LIKE
Easy to disassemble and reassemble
Enhanced stability
Convenient charging port
WHAT WE DO NOT LIKE
No high-back seat
No headlight
Go-Go Elite Traveler comes first then the prior model. It is more compact in size to easily enter in narrow hallways. You can easily go from place to place with the Go-Go Elite Traveler Scooter.
Despite how slender it is built, 300-pounds of weight are securely carried to go up to 9.7-miles. Two battery options, including 12AH and 18AH, are available. Shorter distance reached is six miles per charge. It is made out of lightweight materials resulting in a portable model. It can go through tight spaces with no difficulty. It is steered not in a delta style but more of straight handlebars.
There are three interchangeable color panels for customizing it. You can match your scooter's look as according to your mood. Microprocessor-based controller renders maneuvering stability.
WHAT WE LIKE
Has a larger battery option
Can be disassembled
Basket storage
WHAT WE DO NOT LIKE
No one-hand operation
No headlight
Scout DST 3-Wheel model renders great comfort, ease in control and maneuverability. The user needs not to stay indoors in using this scooter because it can pass through standard hallways to go outside.
Its name came from the Dynamic Suspension Technology or DST. It is composed of full suspension coils that are able to climb ramps or inclines. One-hand delta tiller operation is designed to make steering easier for a person with mobility problems. It can go 15-miles per charge and can do tight turns. The unit is quick to disassemble and reassemble for easy transport.
A swiveling stadium-style seat has height adjustment and foldable backrest. The extended footboard is also built for a comfier ride. Interchangeable control panels are included for a more personalized model.
It is available in a 4-wheel version.
WHAT WE LIKE
Headlight and storage are included
Adjustable Tiller
Affordable
WHAT WE DO NOT LIKE
To go for extra miles with a durable unit is a heavenly feeling. Illness can never really stop a person's desire to have a trip. Buzzaround EX 4-Wheel model is designed to make you enjoy an outdoor activity that is hassle-free.
You can keep up on family trips as your ride on this product. It can reach up to 18-miles at a speed of 5mph per charge. It is done through a one-hand steering system and a powerful motor. To reach the maximum driving range, it requires the use of U1 batteries and 320watt motor. The scooter is considered full-size yet portable as it can be disassembled into 4 smaller parts for storage.
Full suspension and great turns make the ride smoother than ever. A LED battery gauge keeps the user aware of its battery life. Lighting the way is sustained by the adjustable headlight.
WHAT WE LIKE
Adjustable and lockable seat
Portable outdoor model
WHAT WE DO NOT LIKE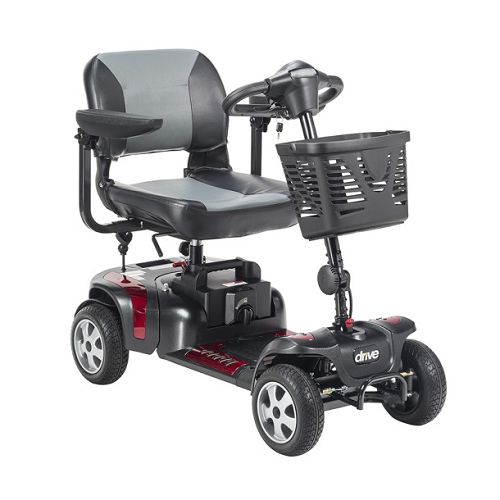 Phoenix HD 4-Wheel unit has all every user is looking for. User-friendly controls, being portable, great stability and full security are established on this scooter. Moreover, making it more personal is possible.
Finding your favorite driving position is easily done through its automatic strengthening feature. It includes adjustable tiller angles and a comfortable swiveling and adjustable seat to ease body stress. A wider seat is available if the standard seat size doesn't fit. It also has great stability that it can uphold 350-pounds of weight in one ride. Flat-free tires keep the ride on-going on uneven roads. Safety is enhanced by the headlight.
Through a free-wheel operation, it reaches up to 15-miles at 4mph of speed. To store the unit, it needs to be disassembled in just a few seconds. 5-year extended warranty is offered.
WHAT WE LIKE
Well-built 
Ideal driving position
Basket storage is included
WHAT WE DO NOT LIKE
Victory 10 is ready to take longer trips and to look good on the road. It is well-engineered to meet the user's expectations upon its performance. Victory 10 is all you've ever need in everywhere you go.
The scooter isn't made bulky but, do not be fooled by its appearance. It is designed sporty and sleek that is suitable for both indoor and outdoor surfaces. Lightweight components are involved during production and hence can be disassembled into seven lighter pieces with the help of Feather-touch disassembly. Control panel has a backlit battery meter to easily monitor how it goes.
The user is secured by the auto-connecting full harness as it runs a distance of 25-miles at 5.25mph of speed. Foam inserts are added on the seat to provide a comfier ride upon reaching a farther distance.
Check its 4-wheel version version by clicking this link.
WHAT WE LIKE
Stylishly built
High-intensity LED headlight
Multiple seat rotation
WHAT WE DO NOT LIKE
No suspension
No power-elevating seat
Losing a scooter is heartbreaking. Look no further than E-Wheels 36 as a digital anti-theft alarm is built. No one is allowed to touch it without the owner's permission. Sounds great!
36 is built stylish and highly powered by 500watt transaxle brushless electric motor. The unit can go farther distances for up to 45-miles at its fastest speed of 18mph. Forward and reverse switch is unique controls that aren't found on others. This executes better maneuvering on tight spaces. Full braking system and complete lighting system enhance overall road safety.
Speed and battery indicator are built to easily monitor the status of the whole trip. More than adequate storages are added, including basket storage and one under seat storage. Lifetime technical support is responsible for the maintenance of the unit.
WHAT WE LIKE
Longer driving range
Seat belt
Rearview mirrors and a phone holder
WHAT WE DO NOT LIKE
Non-collapsible
Non-adjustable seat height
OTHER OUTDOOR PRODUCTS TO LOOK FOR
FREQUENTLY ASKED QUESTIONS (FAQs)
After revealing the outdoor products under reputable brands, are you confident on the product you picked? If not yet, glad you came up to this point to clear things up.
In this section, helpful questions are provided to guide you in choosing the best outdoor units. It includes:
Where to buy an outdoor model?
Scooters are widely available in the market. A particular website named Scooters 'N Chairs is offering topmost brands that are according to its usefulness. Navigation panels show different types and aid the user to easily find their desired unit.
For more information, click this link.
What makes an outdoor model different from an indoor scooter?
Outdoor products are more flexible than indoor ones. It is because the prior can be suitable for indoor surfaces despite its structure whereas indoor scooters aren't normally allowed for outdoor surfaces. Another is the capability of an outdoor scooter to reach farther distance than the latter. Lastly, outdoor models are more stylish to easily catch someone's attention while on the road.
How to choose the best outdoor model?
Manufacturers are now becoming more competitive in producing a scooter. And so, picking the best one is so crucial. Seeing these qualities upon an outdoor scooter denote a good buy. Here are:
Trendy design
To look nice on the road is a goal in having an outdoor model. Look for a scooter that's well-built and stylish in design.
Durable structure
Since it'll be more exposed to terrain surfaces, to remain stable is necessary. This depends upon the materials used during the production.
High performance
It must run an extra mile at the desired speed. It is considered as a travel unit and so having a better performance is expected.
Adequate storage
There are lots of stuff to bring during an outdoor trip. Hence, a scooter with sufficient storage is required. Others add compartment under the seat.
Security
Controls must be secured to work well on different surfaces. User's security is so priceless that a model must take care of. It includes lighting feature, secured seat, and other unique features for safety.
Comfortable
Ample leg room and foam-padded seat are enough to keep the ride comfortable.
Battery life
If possible, look for one with a larger battery option for extended usefulness.
Are outdoor models disassembled or folded?
Normally, outdoor products are portable and transportable. Yes, it can be disassembled or folded during storage. There are some scooter models that cannot be disassembled yet folded and vice versa.
Which outdoor model is the best recommended?
As to depend on the number of positive reviews, Pride Mobility Go-Go Elite Plus Traveler 3-Wheel unit has got the consumer's sympathy. It is a user-friendly model and has so much enhanced necessary features such as its stability. This has to complete your travel experience at its most reasonable cost.
WRAPPING UP
Make more outdoor memories with the aforementioned outdoor units. This means of transport is the best remedy to continue achieving your travel goals in spite of the body pains and other mobility problems. Many proofs are telling how a mobility scooter works to aid the user's bad condition.   Therefore, there's nothing can really hinder to our deepest desire to go outdoors. Through sickness and in health, travel goals can be possibly done.
Above are trusted and most popular brands. There are still lots of choices in the market apart from what is already listed. Getting one that suits your need is what matters most. And, we are getting excited about seeing you, readers, riding the best outdoor mobility scooter.
We promise to guide you along the process of choosing a model. Qualities needed to be found on every outdoor scooter are mentioned on the frequently asked question section. Makes sure the majority of it is present upon the scooter you're going to buy to avoid a wrong purchase.
For additional queries, feel free to place your comment on the box below and wait for a quick response. Thank you for reading!