The Top 3 Mobility Products With 500 Pounds Weight Capacity
There are some factors to consider when buying a mobility unit for someone who has an obese body size. Consider your weight and the weight capacity of the scooter. If the user's weight is more than the weight capacity, the vehicle won't work. Some full size and heavy-duty models can accommodate anywhere between 350 and 500 pounds. Aside from the weight capacity, you also need to consider the travel range. The unit should be reliable. 
If you have mobility issues, you have to pick a model that can travel at least 15 miles on a single charge. It will give you peace of mind knowing that the scooter won't break down. You should also consider a heavy-duty or full-size unit with durable tires and anti-tipping wheels for additional security and safety. Here are the top 3 mobility vehicles with 500 pounds weight capacity.
The Golden Technologies: Avenger 4 is a heavy-duty model with a maximum speed of 7 miles per hour and a driving range of 18 miles on a single charge. The high back seat has a headrest so that you will stay comfortable throughout the ride. The product has a bright safety light. It has a weight capacity of 500 pounds, making it among the most heavy-duty of those in the market. The heaviest piece weighs 68 pounds. 
The Avenger 4 has a ground clearance of 4" and a basket with a handle where you can store your personal belongings. The captain's seat has an adjustable headrest. It also comes with 13" pneumatic tires that can handle outdoors well. The Avenger 4 has a charging port below the handlebars. The serial number is just under the carpet, so you can easily access it. If you are looking for a mobility vehicle that is fun to drive and durable, you should consider the Avenger 4 from Golden Technologies. It has a sporty design and full lighting package to improve your visibility and safety.
It has a turning radius of 67", making it too large for use inside an assisted living facility or home. However, it's great for outdoor use. The model is too large for most vehicle lifts. It arrives in a large box, so you may need help in unpacking it.
The E-Wheels 54 has a digital dashboard, a remote key fob with an anti-theft alarm and a music system with two stereo speakers. The mobility unit has full suspension, foot brake and twist throttle that allows you to control speed. It has a maximum speed of 15 miles per hour and drives a range of 40 miles on a single charge. The product weighs 221 pounds and has a weight capacity of 500 pounds. One of the best things about E-Wheels 54 is that it has a lot of storage space. It also has nice amenities that you'd expect to find on cars. 
It has a windshield and hardtop for all-weather travel. The E-Wheels 54 has a 6" ground clearance and large pneumatic wheels so that it can handle a wide range of terrains. A mobility scooter has 3 different speed settings. There's also a push-button for driving the EW 54 in reverse. The comfortable foot brake provides an intuitive driving experience. It has a cruise control setting as well. The EW 54 has low and high-beam headlight settings, turn signals, hazard lights, rearview mirrors and turn signals for added safety. 
It comes with a music system that has 2 stereo speakers, so you can listen to your favorite music while traveling. It has a digital electric dashboard with push-button controls. There's a storage area underneath the seat and a locking rear cargo box, so you will have a lot of room to store your belongings. The remote key fob has an anti-theft alarm feature. This gives you peace of mind knowing that your model is protected at all times. The EW 54 has a cup holder, 60-volt batteries, tubeless tires, and a 700-watt motor.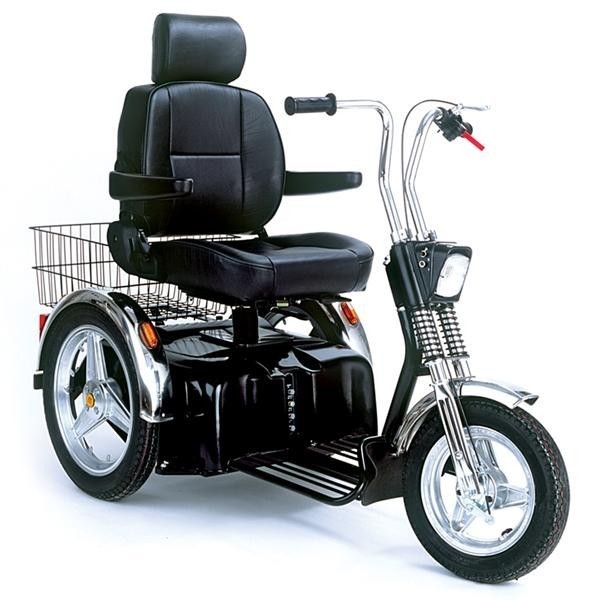 The Afikim SE has a rotating seat and flip-up arms, which makes it easy to get on and off. It features a wide wheelbase for added stability, a detachable ignition key, a full lighting package, and a visible battery indicator. The mobility vehicle has a maximum speed of 9.3 miles per hour and a driving range of 28 miles on a single charge. The heaviest piece weighs 218 pounds. 
What's nice about the Afikim SE is that it combines the convenience of a mobility vehicle with the features and style of a motorcycle. It has 14" rear pneumatic tires and a big 10" front pneumatic tire that guarantees a smooth ride. The Afikim SE is available in an 18" seat width. You can also get a wider seat.
The mobility product is also equipped with shock absorbers and adjustable suspension. It's easy to use and can take on any terrain. The Afikim SE has chrome and black details that look stylish and more sports and less medical. It doesn't have a control panel. However, the controls are extremely user-friendly and can be found on the handlebar. The unit features a fingertip speed control that has reverse and forward buttons. 
When the lever is released, the scooter automatically comes to a stop and uses the parking brake. You can adjust the angle and height of the handlebars. The Afikim SE has a 5" ground clearance, a tight turning radius and all-terrain tires. It's great for riding around the neighborhood, property, town or park. 
If you are looking for a product for an overweight person, you should consider the models mentioned above. These mobility units are designed to accommodate up to 500 pounds of weight and keep the user comfortable throughout the ride. With these scooters, obese individuals can move around with ease. They don't need to worry about falling or waiting for someone to assist them. These mobility vehicles are durable and designed to take on a wide range of terrains. Whether you are looking for one for yourself, you should consider your needs and budget. If it's a gift for a friend, do the same, and you will be able to find the right option for him or her.