The Top 3 Mobility Vehicles For Wide Doors & Hallways
Mobility problems can be challenging. Mobility equipment can make life easier for the person with a disability and their loved ones. It's essential to consider the measurements of your house when choosing a product.
After all, banging into walls can damage the device and the house. Here are the top 3 handicap units for wide doors and hallways.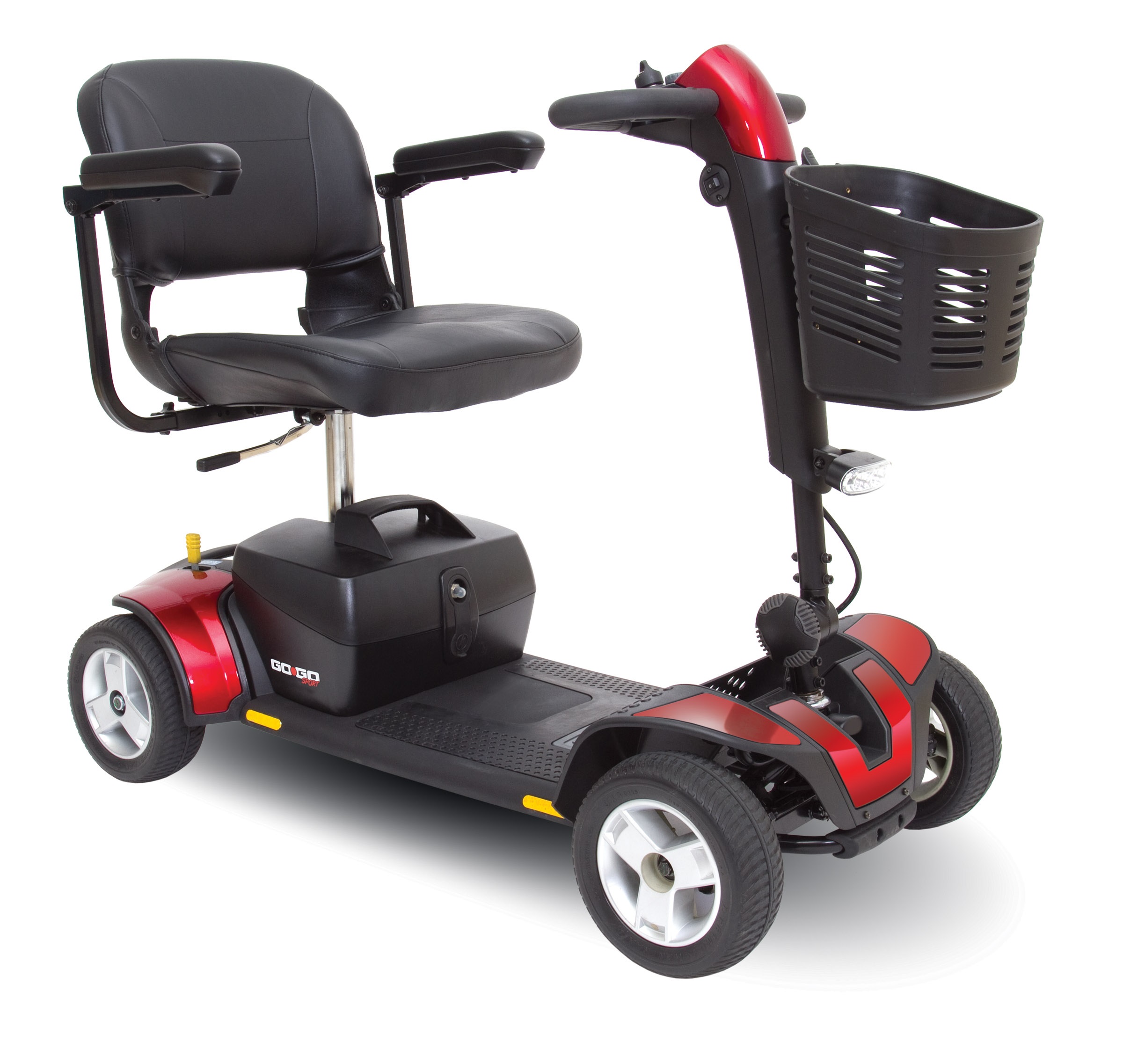 The Pride Mobility: Go-Go is equipped with a height-adjustable tiller, anti-tippers for enhanced stability and LED taillights and headlights. It folds to 30" by 19" by 18", making it perfect for those who are always on the go. The unit has a four-wheel design, which places two front wheels close together and reduces the turning radius to 32". The Go-Go is almost as maneuverable as most three-wheel travel models, but it has the added stability of four wheels. 
It is easy to use and store because it folds in three steps. You can store the product in your car. When you're at the airport, you only need to fold the seat and then pull the lever. Fold the tiller and lock it. You can pull or push the folded model alongside you. Since you're not dissembling it, you are going to load it in one piece that weighs 51.4 pounds. 
The Pride Mobility: Go-Go comes with standard 12 AH batteries. It can travel up to 9.3 miles on a single charge. You can also get the optional lithium-ion batteries, which only weigh 5 pounds. Re-charge the batteries and enjoy an extended driving range of up to 12.5 miles/charge. The Go-Go can be easily maneuvered around your home, the airport or the mall. It arrives in a large box. Required assembly includes unfolding the unit. You have to charge the batteries for 8 to 12 hours before use.
The product comes with a detachable seat, one-piece frame, and two speed settings. Whether you want to move around much more easily or you have to run some errands, the Go-Go can help you live an active lifestyle. It has a detachable oversized canvas basket where you can keep your personal belongings. The Go-Go has a maximum speed of 4 miles per hour. It's a great space saver and is exceptionally portable. The model fits perfectly inside any vehicle trunk, closet or corner. It is also equipped with rear and front LED lights.
The EV Rider: Transport Plus is a lightweight and travel-friendly unit. It weighs less than 50 pounds with the battery and seat removed. The model folds to the size of a suitcase and can be stowed in the trunk of a car or closet when not in use. Transport Plus is also airline-approved. It has two 12AH SLA batteries that provide a driving range of 10 to 15 miles and a maximum speed of 4 miles per hour. You can also upgrade to airline-safe lithium batteries. It is equipped with rear and front LED lights that offer exceptional visibility. This allows you to drive safely in dimly lit environments or at night. 
Transport Plus has a 4-wheel design that guarantees stability. The two front wheels are set close together, reducing the turning radius to 32". This allows you to navigate through narrow hallways, shopping aisles, airport terminals and cruise ships with ease. The articulated front end offers added stability while driving. The Transport Plus has a user-friendly console, powerful 270W 4-pole motor, removable seat, and digital display. It folds in three easy steps and can be stored upright in any corner or closet. 
The mobility scooter also features a speed control dial and a digital display that shows how fast you're traveling. It can be used outdoors and indoors. The unit is key-operated. You can control the maximum speed through the speed control dial. The Transport Plus has a height-adjustable tiller, electromagnetic brakes, throttle control, standard anti-tipper, and solid rubber tires.
The Drive Medical: ZooMe Auto Flex is equipped with an auto-folding seat, aluminum alloy frame, and flat-free tires. It arrives fully assembled. It has a maximum speed of 4 miles per hour and a weight capacity of 300 pounds. It can travel up to 13 miles on a single charge. The model unfolds and folds electronically in 15 seconds through a wireless key fob. It is compact for transport or storage once folded, making it perfect for daily use or travel. It weighs only 60 pounds. 
The aluminum alloy frame makes the ZooMe Auto Flex strong enough for daily use and light enough for transport. It is also airline-approved. You only need to make sure that the battery remains in the cabin and that's it. There's no need to bend over to assemble and disassemble or fold your device. The product has four wheels that are low-maintenance. These tires don't leave a mark on any surface. The unit is stable on a wide range of terrains thanks to its four-wheel design and rear anti-tip wheels that provide extra security. 
When folded, the model takes up only 17" by 17" by 23.5" of space so that you can pack it for almost any occasion. Most foldable travel units feature standard straight-handled tillers, but the ZooMe Auto-Flex has a delta tiller. This feature makes the device ideal and easy to steer for people with limited dexterity. You can adjust the angle and height of the tiller. The armrests have padded tops and adjustable to ensure your comfort while cruising around the neighborhood or inside your home. It arrives completely assembled in a box. 
The ZooMe Auto-Flex also has a manual lever and toggles system for unfolding and folding the chair. The mobility unit is equipped with rear and front reflectors for extra security. The electronic folding system makes it ideal for long and short excursions. The ZooMe Auto-Flex is compact, measuring 17" (W) by 37" (L). It features an electromagnetic braking system and high-gloss shrouds that give it a protective finish. The scooter is equipped with two ignition keys and an easy throttle control. 
With these mobility scooters, you don't need to worry about your mode of transportation. You can enter and exit buildings without waiting for someone to help you. This gives you peace of mind and improves your self-confidence.