When choosing a mobility unit for sale, you should not just consider maneuverability and performance. You also need to consider the number and weight of the components and the assembly process. Below we will speak about the top 3 mobility scooters with the best turning radius.The assembled weight is significant for those who are assembling the unit by themselves or for the elderly. The weight should be consistent with the user's physical ability. Handicap vehicles have a battery installed. Most batteries weigh 20 pounds, and since you may need to replace the battery several times over the entire lifespan of the unit, you have to consider this factor. A battery that weighs less than 20 pounds is easy to replace and remove. 
Most models arrive in 4 or 5 components that you have to assemble. Choose one that has fewer parts to assemble as it needs less technical skill to put together. Scooters have various kinds of seats and handles. The delta tiller handle is the best choice for those who have limited dexterity and hand strength because it gives them a place to rest their wrists on. Standard handles with straight handlebars have thumb levers that allow the user to control speed. This kind of handle requires upper body control and strength. You may also want to consider the turning radius of the unit. Products with the widest turning radius allow you to make efficient turns with ease. Here are the top 3 models with the biggest and widest turning radius.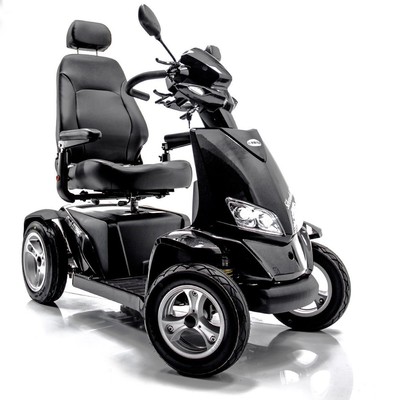 The Merits: Silverado Extreme 4 Wheel is equipped with a full suspension system. The shock absorbers ensure a comfortable and smooth ride. This model can accommodate up to 450 pounds of weight. It offers a long drive range thanks to its 100 Ah battery. The Silverado Extreme also boasts a Mecha lock tiller, which allows you to adjust your position with ease. There's extra storage space underneath the tiller where you can keep your personal belongings. The unit is equipped with an LED lighting system that doesn't consume a lot of power. 
The Silverado Extreme also has a digital LCD dashboard that displays battery gauge, temperature, maintenance messages and accumulated usage hours. The unit has a 120A controller, 25" tall backrest, DC motor, 8A off-board charger, and regenerative electromagnetic brakes. The sporty streamline design of the unit will turn heads. 
The E-Wheels: 72 is a feature-rich product that can be used around town and outdoors. It has a maximum speed of 15 miles per hour and a maximum drive range of 43 miles on a full charge. This means that you can enjoy using it for hours. It is comfortable to ride. It has a 19 inch high-back seat and full suspension. The headrest is adjustable. You can control the speed thanks to the twist throttle. This makes acceleration intuitive and easy for you. If you want to adjust the setting, you only need to adjust the unit's speed control dial to limit the speed.
The EW 72 has an anti-theft alarm, gorgeous aluminum alloy rims, and a remote key fob. It also comes with a LED lighting package, which includes brake lights, turn signals, and headlights. The product has a rear wire basket where you can store your belongings. If it is not enough, you can use the locking storage compartment underneath the seat. The model will arrive fully assembled in a large box so that you can use it right away. You may need to ask someone to help you get it off the shipping pallet.
The 4-wheel design can accommodate up to 500 pounds of weight. It's powered by 48V 20 AH batteries and a 700W hub motor. The E-Wheels: 72 is available in various colors and measures 56" (L) x 27" (W) x 52" (H). It has a turning radius of 92" and 6" ground clearance. It also comes with a remote key. It is equipped with an expanding rear brake, front drum brake, and electromagnetic brakes. The unit also boasts rear and front turn signals, front headlight and rear brake lights. A 3-year limited warranty backs it. 
The E-Wheels: 44 is packed with premium accessories. The 2 tone model has a nice digital dash that shows your battery charge and speed. It also features a LED lighting package that illuminates the path and emphasizes the aesthetic appeal of the unit. The EW-44 has a weight capacity of 500 pounds so that it can accommodate different types of bodies. It comes with a remote key fob that allows you to start up the unit. The EW-44 has an alarm system that protects it when it's not in use. 
The digital dash makes it easy to read the essentials. The unit has a maximum speed of 15 miles per hour. It can travel up to 45 miles on a full charge. It is shipped fully assembled so that you can use it right away. It comes with a full windshield and hard canopy and has a turning radius of 150". The model has an adjustable front seat and aluminum wheels. It also has 2 storage compartments that give you a lot of room to privately and safely store your personal belongings. The canopy provides added protection when you're traveling at speeds of up to 15 miles per hour. 
The E-Wheels: 44 looks stylish and fun thanks to the modern digital display and retro 2-tone paint job. You can remotely start the scooter using a key fob. The alarm gives you peace of mind knowing that your unit is safe even when you are not near. 
These products allow you to travel safely and swiftly. The sleek appearance also creates a favorable impression on those encountered while traveling. Since these units have different features, you need to be careful when making a purchase. Consider your needs and budget and the factors mentioned above. With the right model, you can travel without waiting for someone to push you. It's great for people with limited mobility. If you want to go shopping or visit a friend, you can ride your mobility scooter and do what you want.