Top 3 Power Vehicles for Black Friday Gifts
Are you considering a power wheelchair for a Black Friday gift, but you're not aware of the best model? Worry no more, because this article will review the top 3 mobility products ideal for Black Friday gifts. Keep reading!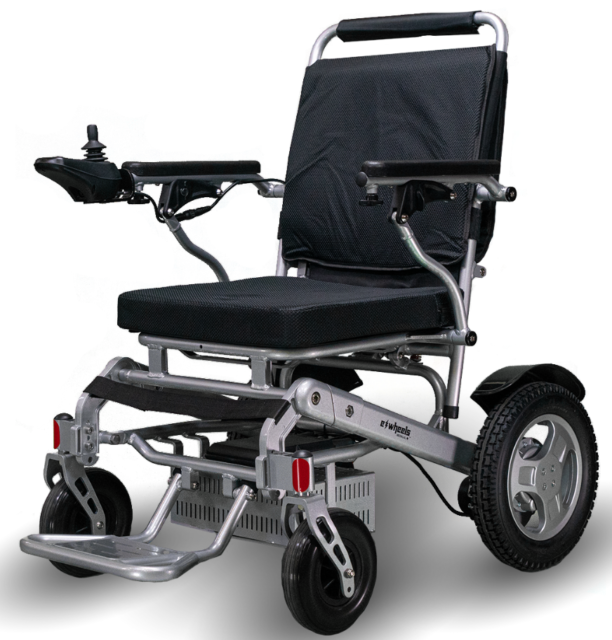 If you're searching for a lightweight model that has an above average weight capacity and a long travel range, then the EW M45 is the best option. This is a foldable power unit manufactured by EWheels Medical. 
This chair is considered one of the lightest long-range models on the market today. It has unmatched portability. It only weighs 58.4 lbs and can be folded quickly. These features make this the best option for a user who travels a lot from one place to another. 
The foldable design is intended to be transportable and portable. What sets it apart is that it can provide a maximum mileage of 24 miles on one charge. It has large rear wheels that are perfect for people who enjoy going outdoors and traveling over rough terrains. Also, it has a remarkable set of features and specs you will surely love. 
This device is super lightweight. The unit, including the batteries, weighs 58.4 lbs which makes it a perfect product for those who want to enjoy its portability. Despite being super lightweight, this unit can accommodate users weighing 350 lbs. The dual 180W Brushless Motors provide a top speed of 3.7 miles per hour.  This product is powered by 212V/6AH lithium batteries which can give you a travel range of 24 miles. It has a tight 31 inch turning radius, so it is easy for you to turn around tight corners with ease. 
Why is the EW M45 an ideal outdoor model? It is due to its 8 inch front wheels and 12 inch rear wheels that can take you over uneven terrains without losing traction and control. But, you should still observe caution when using this chair on rocky, sandy and grassy surfaces. To make the most of the driving range, it is best if you use it on flat, dry and even surfaces. 
It doesn't have a captain's seat. However, it comes with a cushioned sling seat that has the same mechanism as the one utilized in the conventional manual wheelchairs. This integrated 19 inch seat does not just allow this power version to be folded into portable 13 inches wide. It also has pressure management cushions that can adapt to the prominent parts of the body comfortably. It also integrated with a cushion, engineered to lessen back ache when sitting for long hours and cushioned armrests on either side where you can rest your forearms while controlling the joystick. Both eWheels products and eWheels scooters come highly recommended.
This is also one of the best models made for fast and easy transportation. It offers some conventional design features like big basket storage. It has a superb warranty and multiple color options. But, there are some areas that need improvement, including battery life and its range, which will boost the overall performance. 
It has average speed. It can reach a speed of 3.5 miles per hours - that is a bit slower compared to others available. It has a 25 inch turning radius which does not allow for the tightest turns. Also, it can travel about 9.5 miles in just one charge. 
This unit also comes with a lightweight style, weighing just 116 lbs. The wheelchair is made to break down into 4 separate pieces, and the heaviest piece weighing 35 lbs. Therefore, transporting this product isn't cumbersome. Despite its lightweight frame, it can accommodate 300 lbs. 
The backrest and the seat are cushioned, which allows riders to sit comfortably for long periods. But, this unit does not have a headrest. You can pick from 3 color choices, red, black or blue and that is something few models offer. Also, it features a storage basket under the chair to help you carry your belongings with ease. The best thing about this unit is that it is covered under a 5-year manufacturer warranty. Also, all electronic parts are included under a 13-month warranty. 
In general, this chair comes with a lightweight frame, lots of storage and an extended warranty. It can be broken down easily for fast and easy transportation and is available in various colors. On the other hand, it is lacking in several areas like battery life and turning radius, when compared to others. Also, a headrest can be a helpful addition. Despite these omissions, easy transportation, and the lightweight design helps this chair to stand out from other mobility brands and models. 
The state-of-the-art Jazzy Select Elite provides high performance and maneuverability in a stylish, compact design ideal for those with an active lifestyle. It is integrated with a front-wheel-drive tech that provides this model with superb stability, offering a rigid turning radius in tight corners for the best possible indoor maneuverability and climbing obstacles and grade changes effortlessly. The Select Elite is also able to handle different terrains indoors and outdoors for overall solid performance. 
This unit is also integrated with Jazzy Armor. It also comes with a depth-adjustable high-back seat and a removable, flip-up, height and width adjustable armrest and a flip-up, height adjustable footrest.
This vehicle includes controller guards to protect against wear and tear, a blue or red color-through shroud, and a replaceable seat and back covers. It has a black high-back seat. The dual-layer powder-coated frame can increase the durability of this power chair. This is made with ease of service in mind.
Conclusion 
These three products are highly recommended for Black Friday Gifts. You will surely be appreciated by the receiver when you make their daily living easy and stress free.