The Top 3 Power Mobility Vehicles for Hanukkah
The holiday season is fast approaching. Now is the right time to think about the best gift to give to your disabled loved one. One of the best recommendations is to give him or her a motorized wheelchair. There are many types of units available out there, making it hard to choose which is the best one. If you are new to this product, below are the top 3 products that you can consider for Hanukkah. 
This model brings the expedient and tight maneuvering of a mid-wheel electric wheelchair to a tough power chair. Perfect for users who want a higher weight capacity, this unit will help the rider to maintain his or her independence while traveling. 
This product from Merits Health was intended with comfort and durability in mind. The full rear and front suspension and 12 inch pneumatic drive wheels provide a smooth and comfortable ride while navigating different kinds of roads easily. The 22 inch captain seat has a semi-reclining backrest that makes sure you stay comfortable and supported while driving. It is also able to drive up to 20 miles in one charge. 
The Merits Health Vision Super Heavy Duty also provides an optional seat upgrade that offers a full ten inches of elevation, which can be raised from 24 inches off the ground up to 34 inches. The elevating seat should be ordered with a twenty inch wide seat and provides a weight capacity of 400 pounds. Tall counters, high-up shelves as well as other belongings which are out of reach are not accessible. 
This unit does not sacrifice drivability and maneuverability from Merits Health. This is a well-made unit that features a tight 20.7 inch turning radius, which allows the rider to maneuver in tight rooms with ease. It also comes with dual in-line motors that make sure of better torque, efficiency as well as performance. Should the need arrive for a model this Hanukkah, then consider the Merits Health Vision Super Heavy Duty.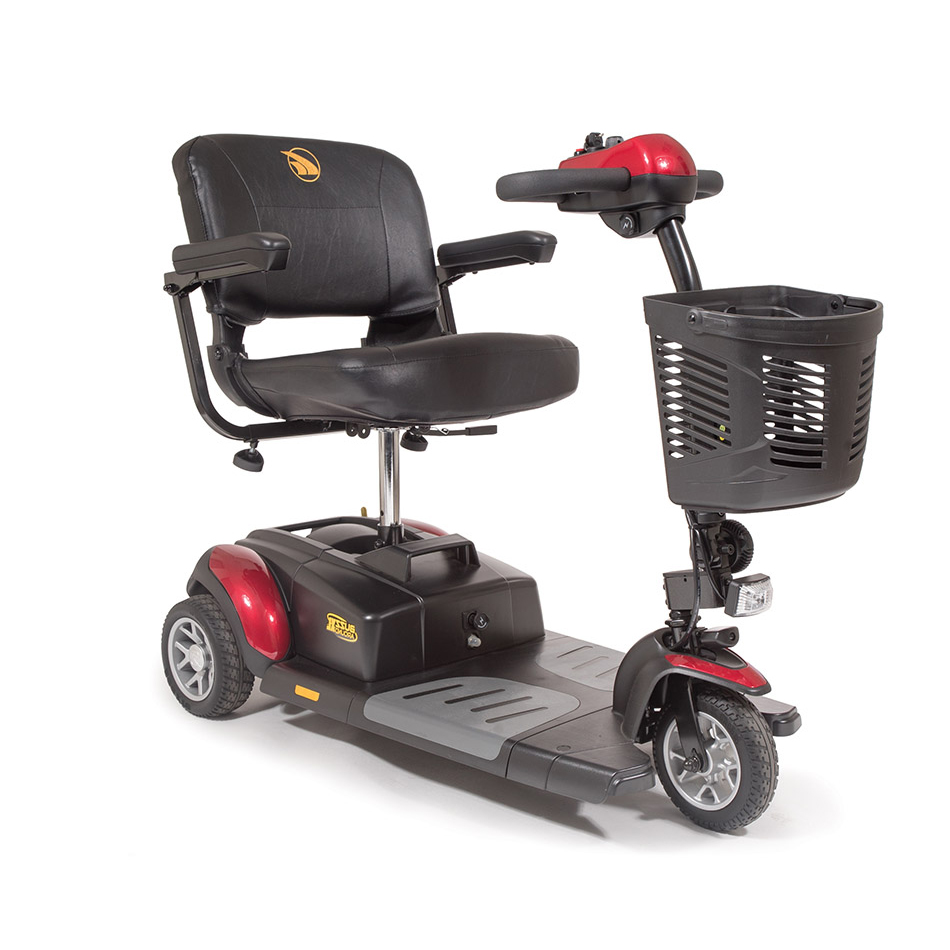 Another remarkable unit for Hanukkah is the BuzzAround XL. Why does it stand apart from the rest? This is because it comes with solid tires for a comfortable ride and high ground clearance. It is one of the toughest mobility scooters available on the market today. It has a tight radius, making it easy to navigate tight areas in your home. When comfort matters a lot, you need to consider this unit. 
Another good reason why this power scooter stands apart from the rest is the big storage basket as well as a glove compartment that can hold belongings like a wallet, smartphone, keys, and many others. The fact that it has a high-maximum weight, a lot of riders can carry extra items on this scooter without affecting the performance of the machine.
The BuzzAround XL is the best option for Hanukkah due to its maneuverability outdoors and comfort as well. It has a turning radius that is ideal for the broad corners you find outside, but the wide turning radius makes this scooter hard to utilize indoors. The BuzzAround XL has a luxurious style and a high performance that makes it one of the best power scooters available on the market today. 
This model has four solid tires that don't get flat and need no maintenance at all. It only weighs 109lbs when assembled. This is also portable and considered to be one of the lightest models available. You can transport this with ease. You can separate it into five pieces. Also, you can disassemble the scooter to store into the trunk of your car. With lightweight parts, you can transport this easily anywhere you want to go. The battery weighs 21lbs, so it's easy to detach and replace if you want to. 
Another remarkable, high-quality yet reasonable product for Hanukkah to consider is the Merits Vision Super. It is a heavy-duty and tough, mid-wheel drive model with an unbreakable frame and very powerful in-line motors. 
It is perfect for running indoors wherein the riders can easily maneuver through hallways and doorways. This is only 27.2 inches wide and has a 21 inch tight turning radius. The mid-wheel design offers a smooth, relaxing ride outdoors. It has a top speed of five miles per hour and an extended range of fifteen to twenty miles. It depends on the weight of the users. 
With regards to seat position, the state of the art Vision Super Bariatric unit has a 22 inch wide seat that has a high-padded back as well as an adjustable headrest. The seat measures 22" W by 20" D and also there is a solid seat option with an 18 inch deep seat which takes account of the captain's seatback. The firm seat option allows the rider to use the preferred chair cushion. This accepts a 22 "W by 18" D cushion. 
This model can accommodate riders weighing 450 pounds. This is the best product to give to obese people as it is made of high-quality materials to ensure durability as well as toughness. Price takes account of extremely powerful NF22 batteries. The integrated deep cell batteries provide a superb range as well as power. The armrests can be flipped up, so you can easily get in and out of the chair fast and easily. The height of the arms is also adjustable, and what is more, is it has an extremely comfortable cushioned armrest. The integrated joystick can be mounted on the right or left arm. 
Conclusion
Hanukkah is the best time to show your love to your loved ones. Make this holiday memorable by giving him or her a power wheelchair that is equipped with state of the art features. You can choose any of the products mentioned above. Each one offers amazing comfort and safety to the riders for a very reasonable price.