The Top 2 Mobility Vehicles For People Who Require Higher Weight-Capacity Units
Factors to Consider Before Buying a Mobility Unit 
There are a few key points to consider before choosing the proper model for you. First, decide whether the use is for outdoors or indoors. Secondly, look for easy portability if needed. Some people opt to travel a lot and, in such cases, easy portability takes primary focus. Finally, search for stability in terms of the number of wheels. If extra stability is required, go for the four-wheeled option. Hence, the factors to consider are – ground of use, portability, and stability. While looking for a mobility vehicle, it is very important to consider these factors. In this way, you can get more out of the device that you're about to buy. Also, another positive advantage of mobility scooters is that they don't require a permit or a license to be operated.
These units can increase the level of self-esteem and also boost everyday activities in someone who requires a higher weight-capacity model. By providing a means of transportation, these units also become their companion, opening up more opportunities and the ability to do day-to-day tasks that otherwise would be hard to manage.
Scooters Designed for Safety with Independence as the Goal
The primary reason people go for mobility units over electric ones is that they are more reliable and comforting. Providing quality and class for nearly the same cost of wheelchairs, mobility vehicles are demanded by a large section of people. This unrequited change has happened only in recent times because of the above justifications. Adding to all these factors of importance, there are also preferences according to every individually picked product mentioned below. These are the top 2 mobility units for the obese, chosen based on experience that is valued equally to independence.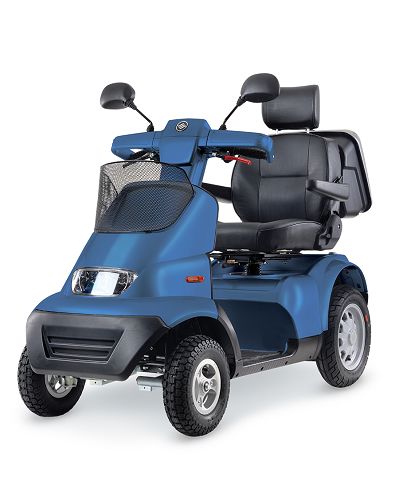 This mobility unit is one of the most progressive and innovative models on the highly-demanded market. It has a fully adjustable seat for comfort with a tough steel frame for durability and long years of use. This device performs exceptionally well both indoors and outdoors, even if it's on an uneven terrain.
This has become one of the favorite choices of mobility products for three main reasons. It has a high capacity of 200Kg weight coverage, making it more preferred than its competitors. It also has a 40Km range with an easily rechargeable battery.