Product Description
Available in any dimensionally configurable size.
Foam type, cushion shapes, and surface contouring are all adjustable and limited only by your imagination.
Additional covers, options, and accessories (including a moldable base) are available.
CUSTOM OPTIONS
Cushion Size
Cover Material
Cushion Shape
Cushion Platform
Bottom Style
Coccyx Cutout
Leg Length Discrepancy
Anti-Thrust
Abductor & Adductor
Foam Selection (6 options)
Ischial Modification
Custom Color
Privacy Flap
Zipper Pouch
Extra Cover
Incontinence Liner
Hip Guide & Hardware
SEATING ACCESSORIES
ATI INSERT
Adjustable Technology insert: A patent-pending moldable aluminum base that can be molded for additional contour and support. The moldable base retains its shape under even the most active users.
This system allows for on-site customization to best fit the needs of the client. The dynamic nature of input provides positioning support while allowing for movement. The ATI insert remains adaptable overtime to meet changes in the size or conditions of the client.
LINK SYSTEM TECHNOLOGY
Developed for easy, accurate, and stable adjustment the Link System Technology allows for width, height, and depth adjustment. Gear teeth allow laterals to adjust in 0.2" increments and lock tightly into place.
Utilized for the Swing Away lateral pad hardware and hip guides, the Link System Technology allows links to be added, removed, or rotated for precise alignment.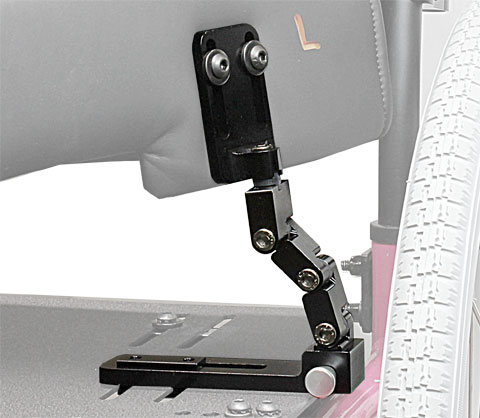 ---